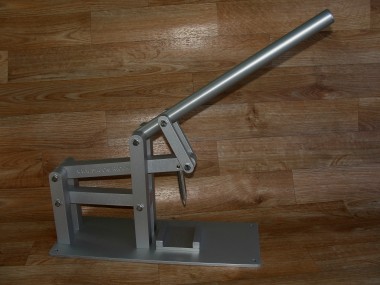 The Florida Cracker is by far the best oyster shucker in the world! This tool is also the best  stone crab cracker  and it shucks clams too. Thousands of this very rugged  oyster shucking machine have been sold to homes and restaurants all over the world.
Years of testing and improving have led us to use solid anodized aluminum with 300 series stainless steel hardware and bolted interfaces. There are no welds to break and it will not rust.
We have been selling this great oyster shucker and stone crab cracker for over 20 years. When you buy from us you also get our great service.  Don't keep hammering or twisting open your oysters and  crab claws with dangerous tools. Make it safe and easy to do!
                                Click the arrow below to see the oyster shucker videos.
See Stone Crab Cracking Video  on the Florida Cracker XL page!
Priced at only $288.00  plus  $30.00  S&H  Total $ 318.00 within the continental US.  You can order two ways, here through PayPal or call us. For multiple orders, special billing or special shipping requests  you must call 727-488-5266.
International customers must call or contact webbskip@hotmail.com to place an order.
Buy the Florida Cracker now by clicking on the "Add to Cart" button
                                                                         If the Add to Cart button ever fails call  727 488-5266 or 727 530-0271
---
 Webb's World Industries
3592 Camelia Place
Largo, Florida. 33771
727-488-5266
Email:  webbskip@hotmail.com