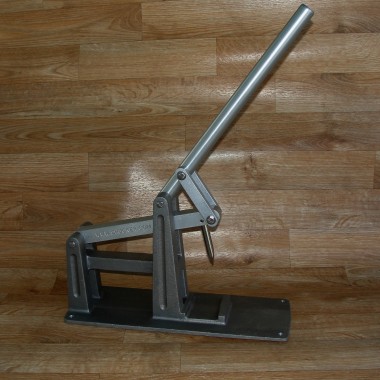 This is our new Florida Cracker XL oyster shucker and stone crab cracker. It is designed for extra long life in commercial environments where a high volume of oyster shucking demands the toughest hardware.
Its' also a stone crab cracker and  it shucks clams too. The XL is priced slightly higher  than our standard cracker in return for the extra life it gives in addition to less maintenance which is critical in a busy kitchen.
The Florida Cracker XL is a heavier tool with solid thicker towers, supporting a thicker cross bar and heavier base to take a pounding and keep working for many more years in your commercial kitchens. So if you are looking for the best oyster shucker or stone crab cracker this is it. 
The price is $345.00 plus S&H $30.00  Total of $375.00 only within the continental U.S. for UPS ground service. Call 727 -488-5266 for special shipping or international.
Click the arrow below to see  the oyster shucker and stone crab cracker videos.
Buy the Florida Cracker XL today!
 You can order two ways, here through PayPal or call us. For multiple orders, special billing or special shipping requests call 727-488-5266.
International customers must  call or contact webbskip@hotmail.com to place an order.
                                          Buy the Florida Cracker XL now by clicking on the 
                                                               "Add to Cart" button
                                                              If the Add to Cart button ever fails call   727-488-5266 or 727-530-0271 
---
 Webb's World Industries
3592 Camelia Place
Largo, Florida. 33771
727-488-5266
Email: webbskip@hotmail.com